The Wizard was the third class for Diablo III to be revealed by Blizzard, and was first shown at the 2008 Blizzcon. At the time it was one of the most developed classes for the game, alongside the Barbarian, and has changed little since that original concept.
One area where the class notably has evolved since the original concept is in its resource system. Originally it was planned for the Wizard to have an 'unstable' resource system, whereby the casting of spells would simultaneously increase her damage output and her vulnerability to incoming damage. The idea was ultimately shelved after it become too difficult to balance. The Wizard's resource system changed a final time from the traditional Mana system to something called Arcane Power, which is the resource system the Wizard class uses to this day.
Arcane Power orb.

Arcane Power is similar to Mana in that it's a relatively fast regenerating pool of energy. Unlike Mana, which is used by traditional Sorcerers, Arcane Power is used by the more renegade Wizards. They almost become lightning rods for the power, and are teeming with energy from it. The fast regeneration of Arcane Power allows the Wizard to use less powerful abilities continuously, however cooldown periods are essential to ensuring that the Wizard's body isn't destroyed by it.

Due to his undisciplined and brilliant nature, the Wizard is an aggressive mage; he is headstrong, cocky, impulsive, arrogant, and dismissive of authority. Wizards, due to their brilliance and youth, have nothing but disdain for the traditional ways of mages and Sorcerers - they dismiss the endless lessons, the endless preaching of caution and safety that schools of magic insist upon. Indeed, Wizards are often smarter than their teachers and possess abilities far in advance of their elders, which only compounds their contempt for authority.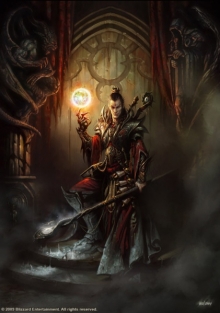 Male Wizard art.

From the start, it was clear that the Wizard of Diablo III bore many similarities with the Sorcerer of Diablo, and Sorceress of Diablo II. This includes, but is not limited to, the class's mastery of elemental spells. Jay Wilson, Diablo III's Game Director, commented on the comparisons in an interview with 1UP in December 2008:[0]

"Well, for the Wizard versus the Sorceress, I would say that if someone makes the argument that the Wizard is just a reskinned Sorceress, I would respond, "Yeah, you're right; the Wizard is basically a reskinned Sorceress."

What we couldn't do with the Sorceress very well was break into what I'd call the old-school pen-and-paper magic user. You know the old magic user who could do a variety of things, like conjure up animals out of midair or create clouds of fog and acid or control time or disintegrate things or use death spells. They had this wide variety of magic that they could use compared to the more traditional elementalist -- which is what the Sorceress is, meaning fire, ice, and lightning -- who was just more limited.

What we really wanted to do is break into this area, while if we just did the Sorceress again, we'd be like, "OK, you have to do fire, ice, and lightning, but where does disintegrate fit? Where does slow time fit in?" So we decided [that we'd] just take the same class mechanics, and [that we'd] change the basic concept and name and just have a throwback to that old-school magic user to give ourselves a broader range of magic skills. But there was never a huge desire to go away from the basic gameplay of the Sorceress; there's a lot of repeated skills, and that's intentional."

In short, the Wizard is in many ways the successor to the Sorcerer and Sorceress from the earlier games in the Diablo franchise. He combines many of the elemental-based spells from those classes with spells that utilise this new power, the Arcane, most notably those revolving around the manipulation of time.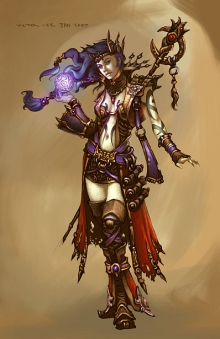 Female Wizard concept art.

Another key change for Diablo III is the addition of spell damage modifiers. These were found of a handful of items, runewords, and skills in Diablo II, however they weren't considered essential to succeeding within the game. This made spellcasters less item-dependent than other builds in Diablo II. In Diablo III, spellcasters will need to add a considerable amount of increased spell damage from modifiers in order to be successful within the game. In other words, increased spell damage modifiers become as important to spellcasters in Diablo III as a good weapon is to one of the melee classes.