The vast majority of locations in the game are currently unknown, however it is known that Diablo III will take place over four Acts (in similar fashion to Diablo II), and that each Act will encompass a new region.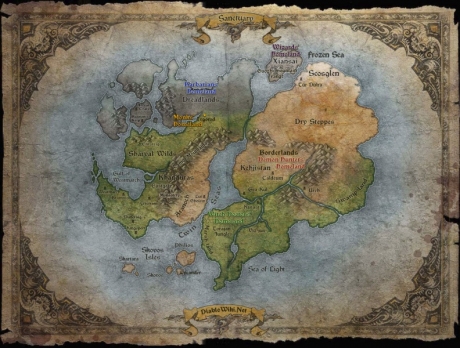 The World Map of Sanctuary.
In the Diablo series, Sanctuary is the realm in which humanity resides, and is therefore the setting for all Diablo games (though it is not the only realm). It was created for the Nephalem, a race of powerful beings created by those angels and demons who, led chiefly by the demon Lilith and the angel Inarius, had tired of the war between their factions and rebelled against their leaders.

The Nephalem actually proved more powerful than their forebears and were soon discovered. They were considered both an abomination and a threat. Tyrael, a key character in Diablo II, was tasked by the Angiris Council (the ruling Council of the Heavens) with destroying their world. However, he changed his mind and ultimately voted to save Sanctuary - swinging the Council's vote in its favour and securing its future in the process.
When the Prime Evils were banished from hell by the Lesser Evils, Tyrael helped to save Sanctuary from destruction and created the Horadrim and the Soulstones that were used to imprison Diablo, Mephisto, and Baal prior to the events in the actual games.