Tomb Raider is an action-adventure video game and reboot of the Tomb Raider series that explores the intense and gritty origin of Lara Croft and her ascent from a frightened young woman to a hardened survivor.
When the inexperienced Lara Croft, a 21-year-old recent college graduate, went looking for adventure with Captain Conrad Roth aboard the ship Endurance, adventure found her. Searching for the Lost Fleet of Kublai Khan off the coast of Japan, the ship encounters a violet storm and Lara and her team are stranded on a strange island in the Devil's Triangle.
Base Camps & Navigation
As Lara makes her way through area of the island, she can set up camp in certain areas that are advantagous. Base Camps are the central hub where Lara must frequently return for most gameplay features such as upgrading Survival Skills and Upgrading Weapons.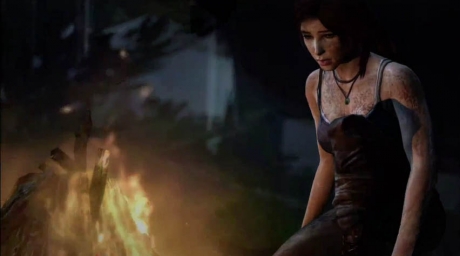 In order to help the player find the way back to a Base Camp, the environment design has been set up in an intuitive way that naturally leads the player around the area.
Additionally, at most points in the game you can use camp sites to fast travel to any previous locations. This let's you quickly go back and grab anything you missed.
Movement & Navigations
Wall Scramble
Lara has the ability to jump against any flat wall and jump again to scramble up to higher levels. This is a vital ability that you will use frequently to climb over obstacles and up buildings. Walls that can be scrambles are generally marked with white paint at the top to indicate this.
Climbing
In order to traverse most of the island Lara will need to climb many obstacles to advance through the levels. In general, Lara can climb almost any obstacle that a normal person would be able to climb, such as ladders and wooden rungs. Simply jump onto an object to determine if it is climbable and Lara will grab on. For ledges, Lara can shimmy across them and jump to other ledges nearby by pressing the L Stick and X/A. Once again, most objects that can be climbed are marked with white paint at the top to indicate this.
As you progress, Lara will gain new skills and equipment that allow her to also climb craggy walls. In order to climb them, jump to a craggy wall and press Square/X to pull out your Climbing Axe and latch on. Lara can jump to other craggy walls nearby by pressing the L Stick in any direction and X/A, but will need to press Square/X again to reattach herself to the wall. Craggy walls appear highlighted when Lara uses survival instincts.
Survival Instincts
Survival Instincts is an ability that Lara uses to help her navigate through the environments. When enabled, the screen is desaturated and the following is show on screen:
Icons on screen in the direction of their next objective.
Highlighting on objects that can be interacted with.
As you progress in the game, you can buy Survival Skills that add more features to the mode, such as highlighting animals and enemies.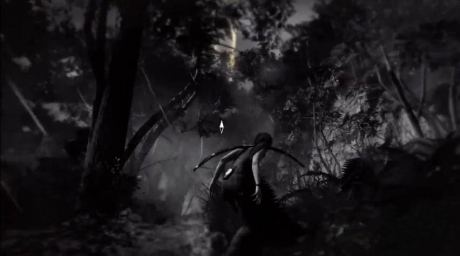 Survival Skills & Skill Points
Survival Skills help Lara survive on the island and can be increased by gaining experience through objectives, kills enemies, and hunts animals.
There are three types of survival skills:
Survivor, which increases passive skills like finding Salvage or taking more damage.
Hunter, which increases your hunting and combat skills.
Brawler, which increases your melee combat abilities.
Salvage & Weapons Upgrades
As Lara searches through the environments, she can find crates with "Salvage", which is points used to upgrade weapons and tools.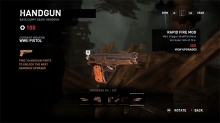 All weapons have their own upgrades that can be anything from increasing ammo, adding a silencer, or adding additional weapon abilities like explosive arrows or burst fire.
Challenges
Most areas of the island have at least one challenge that usually involves finding and destroying an object. The number of objects is dependent on the challenge and the items will only be found in the area they are started.
To start a challenge, you must first find and destroy one of the objects and then the challenge will be listed and the number required to finish will appear at the bottom of the screen. Upon completion, Lara will gain a large amount of experience.
Hidden Tombs
Hidden Tombs are located throughout the game and are non-combat areas where Lara will need to solve a puzzle and reach a treasure.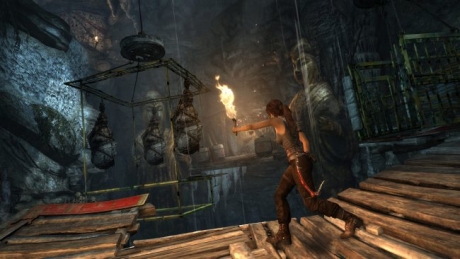 While not marked on the map, the game will indicate when Lara is near a tomb. Each tomb grants Lara 1250 XP, 250 Salvage, and a treasure map.
Collectibles
Tomb Raider has a ton of collectibles on the island: Relics, Documents, GPS Caches, and even Salavge. Lara will gain experience for every collectible she finds and when she completes a sub category, such as all of the Helmet relics, she will gain a big boost in experience.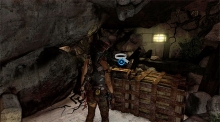 Through relics and documents, Lara can gain a better understanding of history of the island and what has happened there. They can be viewed at any time through the games menu and some relics can be rotated to find hidden information in them.
Other collectibles include fruit bushes and food caches that net Lara small amounts of experience. Salvage can be found in crates on the ground of hanging in netting and require the Pry Axe to pry them open. Additionally, some weapons require Lara to find parts in Salvage crates or on enemy bodies to upgrade the weapons to the next level and unlock more abilities.