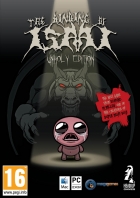 The Binding of Isaac is an action-adventure dungeon crawler game developed by Edmund McMillen and Florian Himsl for the Mac OS and Microsoft Windows.
The game follows a crying naked child, Isaac, whose mother receives a message from God demanding the life of her son as proof of her faith. Fleeing into the basement, Isaac must survive the monster-filled in order to escape with his life.
The Binding of Isaac Brainwaves
10 days ago, 0 replies

Valve has announced a roguelike genre sale for Steam this weekend. The sale runs from today until 27th...

2nd April, 0 replies

The Binding of Isaac: Rebirth has been announced for Nintendo 3DS, Wii U, and Xbox One. The remake of...

7th January, 0 replies

Have you ever experienced déjà vu? Have you ever experienced déjà vu? You may have had this feeling...
Share The Binding of Isaac with others