All of the classes from Battlefield 3 return (Assault, Engineer, Support and Recon), although a few changes have been made.
Assault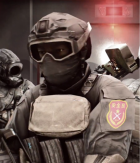 The Assault class is your typical all-rounder class. Assault kits will feature an assault rifle relevant to your selected faction and a medkit, with other gadgets and weapons being unlocked as you progress through the game's multiplayer and acquire experience.
The image on the right is that of a Chinese faction Assault character.
Engineer
The Engineer class excels at repairing friendly combat vehicles and taking out enemy combat vehicles. Their exclusive class of weapon is the SMG. Various anti-armor weapons, such as anti-tank mines and grenade launchers unlock as you acquire more experience.
Support
The role of the Support class is to aid the team. This is done primarily through resupplying team fights and by providing heavy suppressive fire.The weapon of choice for this class is the LMG, thanks to its ability to provide heavy support fire.
Recon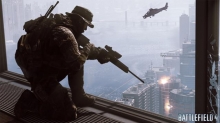 The final multiplayer class is the Recon class, which excels at using sniper rifles to pick off enemy targets or defend a key objective. Access to other items, such as C4 and motion sensors is granted as you acquire more experience.
The image on the left shows the US faction's Recon class.