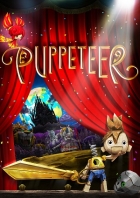 Puppeteer is a platformer that was developed by Japan Studio and published by Sony Computer Entertainment, exclusively for the PlayStation 3 console. It was released on September 5, 2013 in Japan, on September 10, 2013 in North America and on September 13, 2013 in Europe.
The Moon Goddess once ruled over the moon, until Little Bear takes over and declares himself the Moon Bear King. He now steals the souls of children and turns them into puppets, having them serve as guards in his castle. One such boy, Kutaro, has his soul stolen, but the Moon Bear King finds him useless, so he devours his head and casts his body aside. Kutaro steals a pair of magical scissors, the Calibrus, and uses various heads to get back his own and return home.
Puppeteer Brainwaves
2nd June, 0 replies

Sony has announced the latest group of games to be added to the PlayStation Now service for the PlayStation...

24th April, 0 replies

Sony have announced the PlayStation Plus Instant Game Collection titles for May 2014 for North America....

6th January, 0 replies

"Best Surprise" seems kind of backhanded when you think about it. It means there was an expectation...
Share Puppeteer with others