This page details the Xbox One hardware, both it's look visually and also detailing what's under the hood.
The Xbox One's design is meant to mimic more of an entertainment system than previous consoles.
The console itself has a two-tone finish, with half being a matte grey and the other half a glossy black. The system uses a glowing Xbox logo to indicate whether it's powered on or off.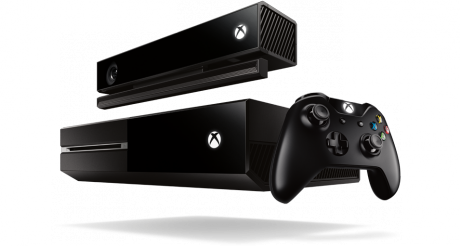 Games will be ripped to the HDD automatically when the game's disc is in the drive. The console is not backwards compatible with Xbox 360 games.
CPU/GPU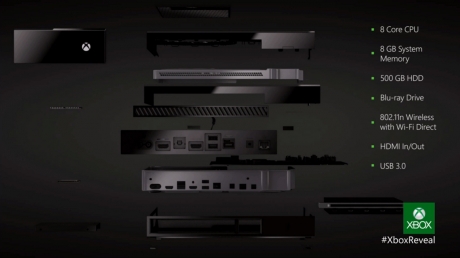 The system uses an APU with eight x86-64 cores, and has 8GB of DDR3 RAM, with 3GB reserved for the operating system and 5GB dedicated for games.
Its hard drive is not replacable (although you can use an external hard drive) and has a capacity of 500GB.
The GPU is estimated to have a peak power of 1.23 TFLOPS, and is a variant of the AMD Radeon.
AUDIO/VISUAL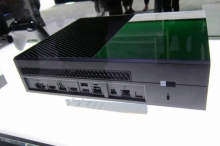 The Xbox One uses and is capable of reading Blu-ray discs. It can always play DVDs and CDs.
The Xbox One supports 7.1 surround sound, as well as 4K resolution video output, including 1080p. There is no video output for composite or component video.
CONNECTIVITY
The system includes 3 USB 3.0 ports, as well HDMI 1.4 for both input and output.