This page details the different SKUs available for the Xbox One.
The console was priced at $499.99 at launch and was available from 22nd November, 2013.
Every Xbox One comes with:
Xbox One Console
Kinect 2.0 Kinect Sensor
HDMI Cable (4K Capable)
Manual & Instructions
Power Cord & Power Supply
DAY ONE BUNDLE

Microsoft announced a pre-order bonus for the Xbox One, the Day One Edition Bundle, which is available at all retailers. This includes everything listed above, plus a 14-day trial of Xbox Live Gold. People who pre-order will also get a premium black packaging, limited edition Day One wireless controller, and the Day One achievement and sticker.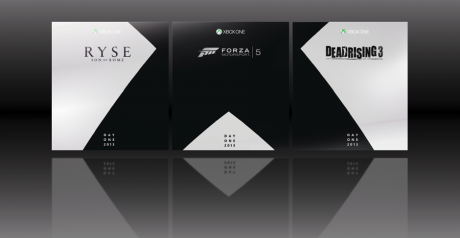 People will also get bonus DLC for the following games:
Day One European Bundle
In Europe, the Day One Edition comes with all of the above and is also bundled with either a free copy of FIFA 14 or Forza Motorsport 5
Employee Gift SKU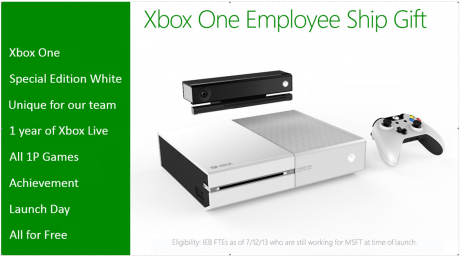 A limited edition white version of the console and controller was made available as a gift to all of Microsoft's employees at the time of launch. This 'Employee Ship Gift' Bundle includes:
Xbox One Special Edition White console
Xbox One White controller
Kinect 2.0
1 year of Xbox Live
All 1st party games
Launch Day Achievement