The Xbox Live that is currently on the Xbox 360 will continue to be the standard for the Xbox One. A few things will carry over from your Xbox 360, such as the Xbox Live Gold account, Achievements, Gamertag and Avatar. Since the Xbox One is not backwards compatible with 360 games, that means game purchases (including Arcade and Indie titles) will not carry over. However, other content, such as movies, will be carried over.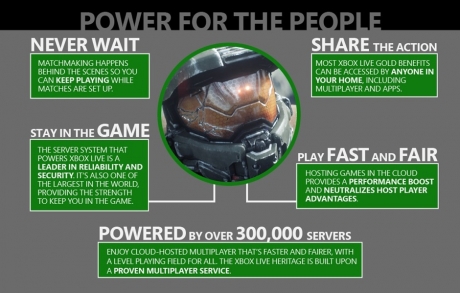 The current friend limit on Xbox 360 is set at 100. With the Xbox One, this will be increased to 1,000 friends. You'll also be able to set different privacy levels, making it so others can only see your Gamertag. People closer to you, such as your friends, will be able to see your full name.
CLOUD STORAGE
All of your content, including games, game saves and movies, will be stored to the cloud. This means that you will be able to access that content anywhere at anytime.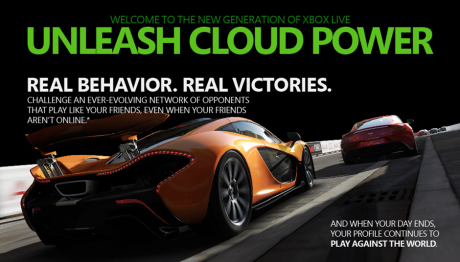 The Xbox Live service has been scaled up accordingly. It will utilise over 300,000 servers and allow developers to utilise the cloud servers to offer expanded features. For example, Forza 5 will utilise the cloud to create custom AI, which will be based on the gameplay styles of users online.
SMART MATCH
Smart Match is the new multiplayer matchmaking system that will be present on the Xbox One. It will use advanced algorithms to match you up with people based on skill level, language and even reputation. It will also run in the background, meaning you can do other things like watch TV or play the game while it looks for matches.
Achievements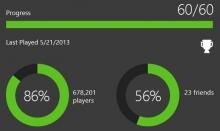 Achievements will continue on the Xbox One, with gamerscore from the Xbox 360 carrying over, although it will function a little differently.
Achievements are no longer limited to just games, and instead can be earned for doing other things, like watching a movie. This is evident with the Day One achievement, which players will get by pre-ordering the Xbox One from any retailer. Note that achievements acquired from outside games will not affect the player's Gamerscore.
Also, games will have a chance to add even more achievements after they have launched, although they will be limited in how much they can add per month. This is an incentive to keep players playing that game, as well as letting them earn more achievements.