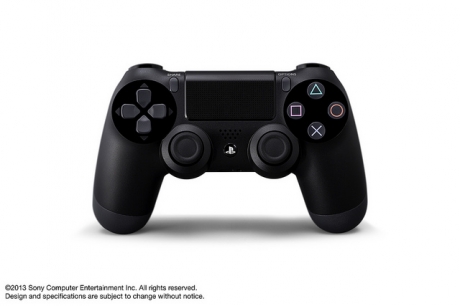 The DualShock 4 is Sony's new controller for the PlayStation 4. Its design is fundamentally the same as earlier DualShock designs, but has a handful of new features over its predecessor, the DualShock 3. The Start and Select buttons are now gone, and combined into an Options button. Motion control is improved with a highly sensitive six-axis sensor, and the rumble feature has also been enhanced. The dual analog sticks are fine tuned for better precision and their shape has been adjusted. The L2/R2 triggers are curved, allowing for easier interaction.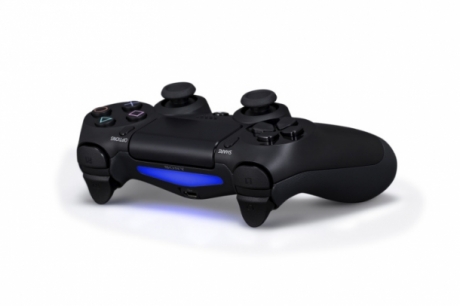 There is a touchpad on the front of the controller, as well as a built-in speaker and headphone jack. On the top of the controller is a light bar with LED that illuminates to, for example, match the color of the character in a game as a simple way to identify players. The colors can also provide useful information to players, such as when their character has taken damage during a game.
Another button on the front of the controller is the Share button. The Share button allows you to easily broadcast your gameplay in real-time through streaming sites such as Ustream, where fellow gamers can comment and even join your game in new ways. For example, if you're stuck in a difficult level, your friends can offer health potions or special weapons that you can use during gameplay. You can also instantly upload images or video to Facebook by pressing the Share button.
The battery life for the controller will be around the same as the DualShock 3, and it will roughly take two hours to fully charge it. It can be connected to the PS4 using the mini-USB cable provided out of the box, which is how the controller is synced with the system. Up to a total of four controllers can be connected to the system at one time. There will be two extra colors available after launch, which are Magma Red and Wave Blue (pictured below)