Super Mario 3D World is a sequel to Super Mario 3D Land, meaning it adopts some of the same mechanics. Each stage goes from point A to point B, and the finish being a flagpole at the end, with each stage having a timer. If the timer reaches zero, then the player loses a life. The only deviations from this are boss stages, where you must defeat the boss.
Four-Player Mayhem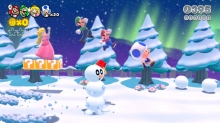 One of the new additions is that there are four different characters to play as, which includes Mario, Luigi, Toad, and Princess Peach. The game supports one to four players, making it the first 3D Mario game to be multiplayer. Each character has their own trait that sets them apart from the others. Mario is well-rounded, Luigi can jump higher then the others, Toad is the fastest and Princess Peach can float; this makes it similar to Super Mario Bros. 2 with their abilities.
Players will be able to pick up one another and toss them to new places, akin to the New Super Mario Bros. series. Of course, this also introduces a competitive aspect to the game, as there's a scoreboard that appears at the end of each stage that shows who collected the most points. Note that all four players share the same lives pool.
Other Additions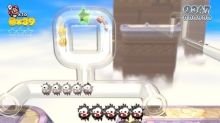 Another new addition to the game, as well as the series, are clear pipes. Mario and the others will be able to move through these, where they can change directions willingly. However, enemies can appear inside of the clear pipes and must be avoided, although the characters can use the Fire Flower to toss fireballs inside of the pipes before entering.
Some elements from previous games are also featured in the game. One example is if a player falls behind the others in a multiplayer game, that character will be encased in a bubble and will catch up to the others. Also, players will be able to store an extra powerup, similar to Super Mario World. They can press a button to release the powerup should that character, or even another, needs one.
WII U GAMEPAD FUNCTIONALITY
Nintendo has added some functions from the Gamepad in the game. The gyro sensor can be used to look around the stages, making it easier to see hidden passages and other items, such as blocks and coins. In addition, the Gamepad can be used to hold enemies in place.