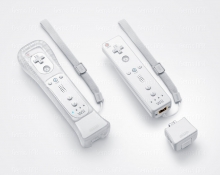 The Wii MotionPlus is an expansion device that allows the Wii Remote to more accurately capture complex motion.
Incorporated with a custom version of the Wii Remote Jacket, the Wii MotionPlus affixes directly to the Wii Remote expansion port, extending the length of the controller.
The Wii MotionPlus uses a Tuning fork gyroscope, which supplements the accelerometer and Sensor Bar capabilities of the Wii Remote, enabling controller motions to be rendered identically on the screen in real time.
It is sold individually, as well as released in bundles with some MotionPlus compatible games such as Nintendo's Wii Sports Resort.
In November 2010 Nintendo released the Wii Remote Plus - a regular-sized Wii Remote that has the functionality of the MotionPlus accessory.