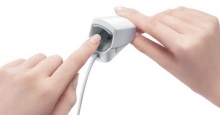 The Wii Vitality Sensor is an unreleased fingertip pulse oximeter sensor that connects through the Wii Remote. According to Nintendo, the device "will initially sense the user's pulse and a number of other signals being transmitted by their bodies, and will then provide information to the users about the body's inner world."
The Wii Vitality Sensor was announced by President and CEO Satoru Iwata at Nintendo's E3 2009 media briefing. No specific applications were revealed for the device, but when presenting the device Iwata suggested that video games may soon be used for relaxation.
According to Nintendo of America president Reggie Fils-Aimé, more details concerning the Wii Vitality Sensor were to be showcased during E3 2010, although there was actually no mention of the device
At E3 2011 Shigeru Miyamoto said that the Wii Vitality Sensor has a difficult time performing consistently across a variety of situations. Since then the Vitality Sensor has rarely been mentioned, leading to speculation that the concept has been mothballed.