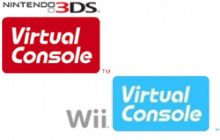 The Virtual Console is a specialized section of the Wii Shop Channel and Nintendo eShop. The Wii's Virtual Console lineup consists of titles originally released on both past home and handheld consoles. These titles are run in their original forms through software emulation, and can be purchased for between 500 and 1200 Wii Points depending on system, rarity, and/or demand. Virtual Console releases are faithful to the original games, so there are no graphical enhancements, customizable controls, or added online multiplayer feature.
Virtual Console's library of past games consists of titles originating from the Nintendo Entertainment System, Super Nintendo Entertainment System, Game Boy, Game Boy Color and Nintendo 64, as well as Sega's Master System and Mega Drive/Genesis, NEC's TurboGrafx-16 and SNK's Neo Geo AES. The service also includes games for systems that were known only in select regions, such as the Commodore 64 and MSX.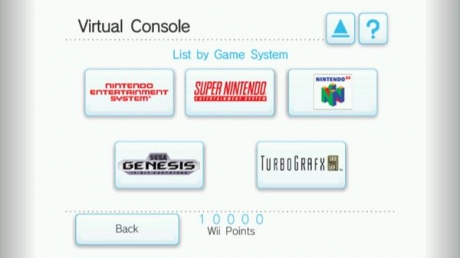 Games downloaded from the Virtual Console library can be stored in the Wii's built-in 512 MB flash memory. Wii system software versions 2.0 and later allow Virtual Console and WiiWare games to be moved from the console's internal memory to a removable SD card and then back to the same console. Wii Menu 4.0 added a new menu to run channels from an SD card provided there is enough free space to hold a copy of the channel in internal memory. If the console runs out of memory, the SD menu will offer to move other channels to the SD card.
Virtual Console games are locked to the Wii on which they were purchased — they cannot be transferred to another Wii via an SD card, although it is possible to purchase games in the Wii Shop Channel and send them as gifts to people.
Saved games are saved to the Wii Internal Memory and function exactly as the original cartridge did. A game which in its original cartridge form did not have any form of save feature will not have any save game feature on the Virtual Console.
Virtual Console games can be played using different controllers. The Wii Remote itself (turned on its side) can be used for most games, though some require a Classic Controller or GameCube controller to work. For more information see the table below: