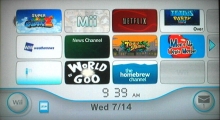 The Wii Menu is an interface for the Nintendo Wii that is designed to emulate television channels.
Separate channels are graphically displayed in a grid, and can be navigated using the pointer capability of the Wii Remote.
There are six primary channels: the Disc Channel, Mii Channel, Photo Channel, Wii Shop Channel, Forecast Channel and News Channel. Additional channels can also be downloaded from the Wii Shop Channel through WiiWare, including the Everybody Votes Channel, Internet Channel, Check Mii Out Channel, Nintendo Channel, and the Netflix Channel. There's also a Message Board which allows users to leave messages for friends, family members, or other users on a calendar-based message board.
The following is a complete list of Wii Channels that are available:
Disc Channel
Mii Channel
Photo Channel
Wii Shop Channel
Forecast Channel
News Channel
Get Connected Video Channel
Internet Channel
Everybody Votes Channel
Check Mii Out Channel
Nintendo Channel
Wii Speak Channel
Virtual Console Channels
WiiWare Channels
Television Friend Channel
Digicam Print Channel
Today & Tomorrow Channel
Wii My Room Channel
Demae Channel
BBC iPlayer Channel
Netflix Channel
LOVEFiLM Channel
Kirby TV Channel
Hulu Plus Channel
YouTube Channel
Wii U Transfer Tool Channel
Amazon Instant Video Channel