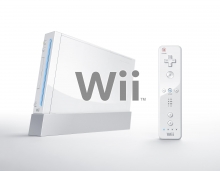 The Wii is a home video game console released by Nintendo on November 19, 2006. It is part of the seventh generation of video game consoles, and competes with Microsoft's Xbox 360 and Sony's PlayStation 3.
It is the successor to the Nintendo GameCube, with early models being fully backward-compatible with all GameCube games and most accessories.
The console was first announced at the 2004 E3 press conference and was later unveiled at the 2005 E3 Press Conference.
The console targets a broader demographic than that of its competitors and predecessors, thanks to its use of motion controls; the console's primary wireless controller (the Wii Remote) can be used as a handheld pointing device and detects movement in three dimensions.
The Wii currently leads the generation in worldwide sales, with over 97 million consoles having been shipped (compared to 75.9 million for the Xbox 360 and 70.2 million for the PlayStation 3, according to their most recent financial statements).