Batman: Arkham City is a third-person action-adventure game that takes place in a large open-world. The game follows a main storyline, which may be completed at any pace. In addition, there are many subplots and side missions which may also be completed at any time.
Exploration
The game gives players freedom to explore the entirety of Arkham City, opening up new buildings and locations as the plot progresses. Batman may move by running, crouching, and climbing buildings. The overall size of the map is five times that of Arkham Asylum.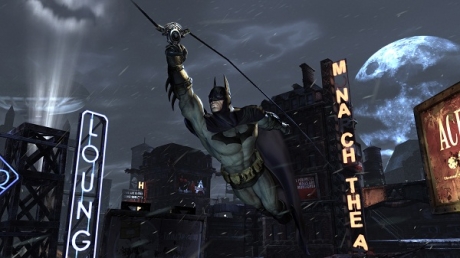 Exploration is made easier through the use of Batman's gadgets, such as the grapnel gun which allows him to quickly climb to zipline to high places. When in a high position, Batman may leap and glide to cover large distances quickly. Combining the use of the grapnel gun with the gliding ability creates a Grapple Boost, which allows Batman to essentially zip himself around the city without touching the ground. The grapnel gun can also cling to helicopters for easy movement. Performing a Dive Boost allows Batman's gliding speed to greatly increase.
The Line Launcher returns from Arkham Asylum, but now as Batman travels along it, he may shoot a second line while in midair, allowing for sharp turns and longer travel. He may also leap atop the line for more careful mobility and stealth.
Combat
Arkham City reuses the "freeflow" combat system of the previous game. This gives Batman one button to attack, one button to counter enemies with warning markers above their heads, and one button to use special abilities.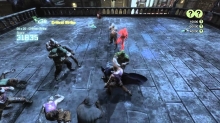 Combining the attack and special buttons activates a powerful "Beatdown" attack. Countering multiple opponents simultaneously will take them out at the same time. Similarly, contextual counters will use the environment to knock out enemies.
Various enemies have specific ways they need to be defeated. Some enemies have guns and will kill Batman quickly if not disarmed. Some have strong defenses and can only be defeated from above or behind. Linking attacks together creates combos, which can then activate unique special moves that will defeat multiple enemies simultaneously. If combat becomes too difficult, Batman can use the grapnel gun to escape. Likewise, Batman can use the grapnel gun and other gadgets to stealthily incapacitate enemies, avoiding combat altogether. Other stealth possibilities include corner, ledge, floor, and other environmentally-based takedowns. Wooden walls can be broken through for quick takedowns. The disruptor allows the player to sabotage enemies from afar.
Some attacks can be performed from the air, such as the Dive Bomb, which flings Batman toward the ground with force. While gliding, an enemy can be grabbed with the grapnel gun, which launches Batman into them. As the player collects different gadgets over the course of the game, they can use them to improve combat. Examples are the batarangs, which can be thrown to stun enemies. Explosive gel can be used on either enemies or the surrounding environment to knock them out. As Batman progresses, his stats are raised, allowing you to unlock new abilities.
Detective Vision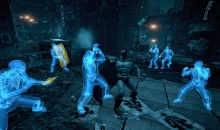 Batman has the special ability to go into Detective Vision, which will allow him to listen through walls and will highlight all enemies in the vicinity while going into an inverted color scheme. The statuses of various character will change their color, revealing how frightened or aware they are. Unaware enemies are very susceptible to attacks, and frightened enemies are sometimes sloppy. In addition, Detective Mode can be used to reveal secrets, collectibles, or clues to story missions.
Side Missions
There are a variety of side missions scattered throughout the game. The most apparent of these are Riddler challenges. These are found everywhere in the city. They may require the player to solve a riddle, navigate a trap, or locate a hidden green question mark by altering their perspective. After a certain amount of riddles are solved, a larger, more-urgent Riddler challenge room will be unlocked.
Some side missions require activation by a certain enemy Batman will encounter outside of the story. These include missions revolving around the enemies Hush, Deadshot, and Zsasz. There are also small challenges scattered throughout the city, such as destroying TYGER's cameras or Joker's balloons. Completing side missions can unlock experience, which helps to improve Batman's abilities.
Catwoman
In certain sections of the game, the player takes the role of Catwoman. Catwoman controls much like Batman, but her attacks are weaker and faster. She can explore the city freely, but cannot glide. Instead, she is able to scale walls with ease. She uses unique gadgets, such as a whip and bolas. Similarly to Batman, she can gain experience to improve her abilities, and she has her own specific side missions and Riddler challenges.