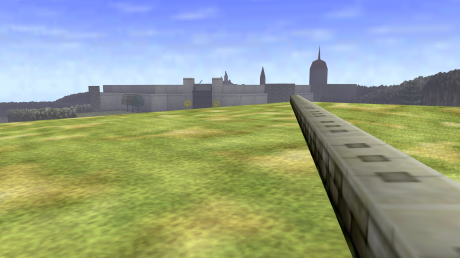 In Ocarina of Time, Hyrule Field is a large round area that acts the "hub" or crossroads of Hyrule. All other areas of the game branch out from this region. A grassy field with rolling hills and small fences, it is quite large for an N64 game. However, there is little activity, and besides a few side-quests, it serves little purpose other than maintaining the illusion of a vast land.
Located in the center of Hyrule Field is Lon-Lon Ranch, and all other areas dwell on its outskirts. At the northmost section of the field rests Hyrule Castle Town, the main center of activity of Hyrule which also serves as the location of Hyrule Castle. To the northeast is Kakariko Village, the primary settlement for Hyruleans, and just north of the village is Death Mountain. Zora's River and ultimately Zora's Domain reside in the east, while the Kokiri Forest is situated in the southeast.
Directly to the west of Kokiri Forest is Lake Hylia, a deep, pure lake that is home to the Water Temple. Lastly, Gerudo Valley is located to the west, where one the other side of the valley the gang of female thieves have established their hideout.
All of the waterflow in Hyrule is a direct source from the waters in Zora's Fountain, located in the northeast. This water flows through Zora's River and makes its way past Castle Town, continuing its path through the bottom of Gerudo Valley and eventually reaching its final destination: Lake Hylia.
As young Link, Stalchildren burrow out of the ground during the nighttime and attack the young hero. They can be avoided by sticking to the dirt road or by wearing the Bunny Hood. Peahats can also be found in the southern and northern corners of the field, and will attack anyone who gets too close to their territory during the day; however, if Link attacks the Peahats during the night, they will send out Pea Hat Larva to chase after the young hero. Once Link turns into an adult by retrieving the Master Sword from its pedestal, the Stalchildren and the Peahats will have disappeared; instead, Big Poes as well as ordinary Poes will roam the field, although they will only appear at certain spots.