Call of Duty: Ghosts is the latest entry in the Call of Duty series of military first person shooters. As with most recent entries in the series, Ghosts is a 'modern shooter', albeit one based in a post-apocalyptic setting, where a global catastrophe sees America lose its claim to being a world super power and where what remains of US Special Forces group together to form an organisation called Ghosts.
Key New Features
Ghosts is expected to be the biggest step forwards in the franchise since Call of Duty 4: Modern Warfare. A new game engine has allowed the team at Infinity Ward to introduce a host of improvements and new features, including the following.
Character Agility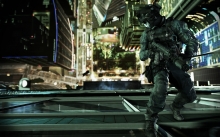 Leaning has been improved and diving introduced, making for the most agile Call of Duty experience to-date. Players will be able to learn around cover, as well as walls and corners, and automatically navigate obstacles. Also, for the first time in the series, players will be able to slide along the floor.
Dynamic Multiplayer
Dynamic Maps makes their debut in Ghosts. Maps will alter in real time as large-scale events such as earthquakes and floods cause chaos and destruction. Players will also be able to trigger certain events (so-called 'Dynamic Events') on maps, for example they can trigger explosive traps.
The first example of a Dynamic Map revealed was the map Free Fall, which drops players into a shattered skyscraper on the brink of collapse. The ruined skyscraper will actually continue to fall throughout the match. Each drop causes further destruction, disrupting sightlines and creating new paths and chokepoints over time.
Character Customisation
For the first time in the series you'll be able to properly customise your character, not just your character's load-out. You can change your body armor, gear, equipment, and helmet, as well as of course your weapons, items, and perks.
Artificial Intelligence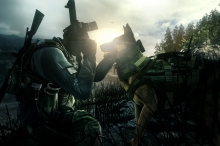 On top of this, enemy AI has been improved. Even wildlife found in the game, such as fish in the ocean, will react to a each character's movement. The improved AI has also allowed for the introduction of allied animals - for the first time in the series a canine will be a part of your squad and will help you take out enemies, and will even be controllable for at least one mission in the campaign.
Side Missions
Ghosts will contain hidden side missions - again, a first for the series. Although the main campaign is as linear as all other entries in the series, players will come across hidden side missions during the course of the campaign by, for example, picking up a key object as they progress. The outcomes of these side missions has the potential to impact on the main storyline.
Graphical Improvements
Thanks to the new, upgraded engine being used Ghosts will be significantly improved graphically. There will be more attention to detail, improved textures, and better use of lighting. The game also runs at a stable 60fps.