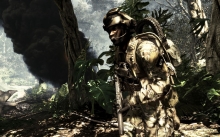 The Silencer, also known as a Suppressor, is an attachment that has appeared in numerous Call of Duty titles, and will be in Ghosts, as confirmed by the publicity screenshot on the left.
As the name(s) implies, this attachment reduces the noise level of the weapon when it is being fired. It also reduces muzzle flash and prevents gunfire from revealing your position on the enemy radar.
The drawback of using a silencer is that it reduces your weapon's range and damage output.