Saints Row IV is an open world game with a mission structure, where players can freely roam in between the missions. There is a plethora of activities that can be done, ranging from rampaging through the streets with a tank to throwing themselves in front of moving vehicles to earn money. The game borrows a lot of elements from previous games, as well as adding a number of new features.
Missions/Activites
As with previous entries in the Saints Row franchise, Saints Row IV will retain the mission-based structure for its story and non-story gameplay. The game will also offer plenty of side missions and activities that the player can complete, such as Tank Mayhem and Insurance Fraud, which were featured in previous games. These activities will be unlocked as the player progresses throughout the story.
Abilities/Weapons
The President of the United States (POTUS) is the leader of a gang and will have plenty of abilities and weapons that s/he can access. Included in these are normal weapons such as pistols, assault rifles and rocket launchers, but s/he will also have access to exotic weaponry, such as a weapon that can inflate the heads of whoever it is used on.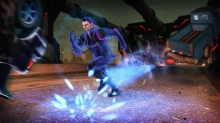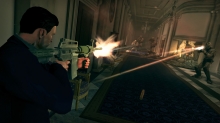 In addition to weapons, the game will introduce the idea that the POTUS can learn superpowers as part of the simulation. These range from simple flight to even telekinesis. There will be at least eight different superpowers that the POTUS will learn over the course of the game, allowing him/her to fight back against the Zin.
Customization
One of the biggest draws of previous games in the series was the ability to customize not only your main character, but other aspects of the game as well. When you first begin the game, you'll be allowed to create the character you will play as throughout the entirety of the game. You can change many different aspects, such as hair, eyes, facial features, every nuance of your body, as well as what clothing you want to wear, or not wear (yes, you can go naked).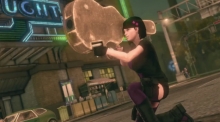 Saints Row: The Third offered the ability to customize your gang, but for reasons related to the story, that was removed from this game. Players will be able to customize weapons by giving them new skins, such as making the rocket launcher look like a guitar case. It is unclear if you will be able to do the same for vehicles, though.