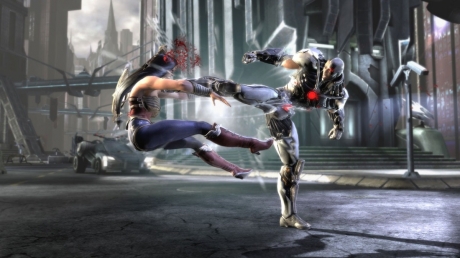 Metropolis, originally called Future City, is a highly advanced technological city home, chiefly, to Superman.
Transitions
There are actually three transitions on this map but they can only be gone through in a specific order. You can't go back to a previous area. Most fights start in the street and travel right to the rooftops. From there, you can use the right transition to get to the Museum. Finally, from the Museum, you can go left to get back to the streets.
| Section | Location | Destination |
| --- | --- | --- |
| Street | Right | Rooftops |
| Rooftops | Right | Museum |
| Museum | Left | Street |
Environmental hazards
There are two objects to interact with in each area of this map. In the streets, you have the car to the far left and the flying car to the right. On the rooftop, there's an air conditioner to the left and a flying robot near the middle. Finally, in the Museum, there's the plane on the left side and the hanging car on the right.
Location
Item
Gadget
Power
Street
Car
Leap
Smash*
Street
Flying Car
Bomb**
Throw**
Rooftop
Airconditioner
Leap
Smash*
Rooftop
Flying Robot
Shoot**
Throw**
Museum
Plane propeller
Throw*
Throw*
Museum
Hanging Car
Bomb*
Throw*

*Item is destroyed when used.

**Item is destroyed but respawns.