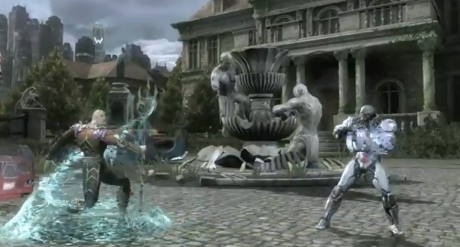 Wayne Manor is the luxurious residence of the biollionaire Bruce Wayne (better known for his alter ego, Batman). Beneath it lies the Batcave, and Batman's home of operations.
Transitions
There are two Transitions on this map. The first one at the Entrance is on the right side and launches you into the great room. From there, head to the left and you can launch your enemy out throw the wall.
| Section | Location | Destination |
| --- | --- | --- |
| Entrance | Right | Great Room |
| Great Room | Left | Entrance |
Environmental hazards
Outside at the entrance, there's a car on the left side followed by the fountain in the middle. Just to the right of that will be a bike and on the far right, you can jump up and use the gargoyle.
Inside, There's a lot to do but it's mostly symetrical. On the left and right sides will be armors that can be leapt off of or thrown. Further in will be a chair or piano that can be thrown. In the middle will be both a dining table that can be used for a kick and a Chandelier that can be used.
Location
Item
Gadget
Power
Entrance
Car
Leap
Smash*
Entrance
Fountain
Kick
Kick
Entrance
Bike
Drive*
Throw*
Entrance
Gargoyle
Leap
Throw*
Great Room
Armor
Leap
Throw*
Great Room
Chair
Throw*
Throw*
Great Room
Dining Table
Kick
Kick
Great Room
Chandelier
Swing
Throw*
Great Room
Piano
Throw*
Throw*
Great Room
Samurai Armor
Leap
Throw*

*Item is destroyed when used.

**Item is destroyed but respawns.