Injustice: Gods Among Us is a fighting game that features characters from the DC Universe, including Superman, Batman, Bane, and The Joker.
The gameplay involves the player completing one-on-one matches within a two-dimensional plane arena. Each match consists of one round, with each character having two health bars, and uses a four-button control layout of light, medium, heavy attacks, and a "character trait" button that activates a unique ability or attack designed to showcase each character.
Power vs. Gadget
Fighters in Injustice roughly fall into one of two character classes: power or gadget. Power characters tend to utilize their brute strength to defeat their opponents, whilst gadget characters tend to use weapons of gadget-like items to win their rounds.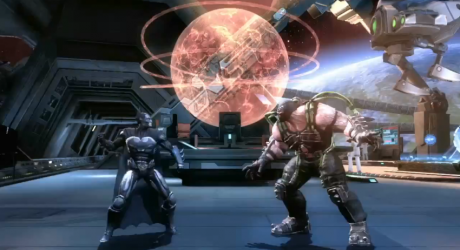 Interactive Arenas
Each arena (which are based on locations from the roster's universe) has various areas that players can knock their opponents into and multiple objects that can be used differently, depending on the fighter's class.
For example, gadget-based characters like Batman can fire projectiles at a car to cause its explosion, whilst power-based characters like Superman will pick up the car and throw it at their enemy.
Character Traits
Each character also has his/her own unique character trait, which translates into a special ability or power that showcases their unique abilities. For example, Batman's trait summons a swarm of bats that attack his opponent, whilst Superman in contrast receives a temporary stat boost as his character trait.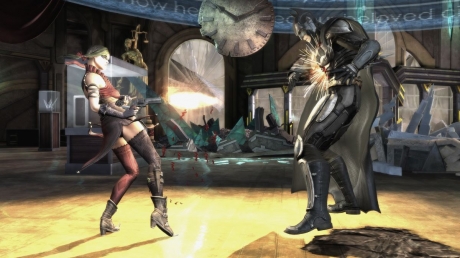 Power Meters
In the most recent Mortal Kombat game, players built up a meter over the course of a fight which could be used to perform more damaging combos or, ultimately, super moves called X-ray moves.
As Injustice has to comply with a T-rating, it will not feature such ultra-violent moves, but there will be a similar meter system that will affect each character differently.
The 'super meter' is charged up either by performing successful combos or by taking damage from your opponent, much like the X-ray meter fills up in Mortal Kombat. The meters divide into four sections, each of which allows you to perform a special move, whilst using a complete meter up will unleash an especially strong special move.
Clash System
The power meter system outlined above can also be used to wager during battles. This 'Clash System' allows players to use a portion of their meter secretly. The highest bidder wins the wager and steals power from their opponent, either netting bonus health or finishing off their devastating combo.
These wagers take place during gameplay and trigger unique character dialogue and brief cut scenes.
S.T.A.R. Labs Mode
S.T.A.R. Labs Mode is an additional game mode that features a number of bonus missions that reward players when they have been completed.