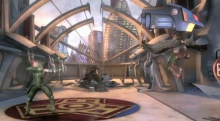 The Hall of Justice was a base of operations for a number of Justice League groups. Its construction was funded by Batman and built by Superman.
Transitions
Generally, you'll start in the plaza, fom here, you can launch your opponent into the Great Hall by using the right side. Similarly, inside the Hall, you can launch your opponents outside on the right side.
| Section | Location | Destination |
| --- | --- | --- |
| Plaza | Right | Great Hall |
| Great Hall | Right | Plaza |
Environmental Hazards
There are quite a few Hazards on this map. In the plaza, starting on the left, you can use the statue for an attack but you can only do so once. To the right of that is a large but that can be used. Be sure to watch for the small robots moving around on the ground as these can be thrown at your enemy. The Fountain can be used to bounce enemies around and the standing robot on the far right can be used as well.
In the Great Hall, on the far left side will be a machine that can be used. To the right you'll find a red globe hanging down that can be used. Further right will be two items on top of each other. There will be teleporter pads which can be used to teleport you out of the corner and then a ship above. This ship can be thrown or be used to slide and move at the same time.
Location
Item
Gadget
Power
Plaza
Statue
Spear Smash*
Throw*
Plaza
Bust
Leap
Throw*
Plaza
Small Robots
Bomb**
Throw**
Plaza
Fountain
Kick
Kick
Plaza
Standing Robot
Leap
Throw
Great Hall
Machine
Leap
Throw*
Great Hall
Hanging Globe
Bomb*
Throw*
Great Hall
Hover ship
Slide Move
Throw*
Great Hall
Teleporter Pads
Teleport
Teleport

*Item is destroyed when used.

**Item is destroyed but respawns.