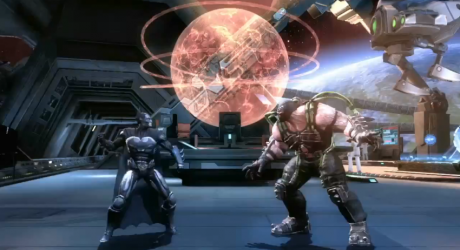 The Watchtower is the highly advanced headquarters of the Justice League and is located in Earth's atmosphere.
Transitions
Most fights start on the Bridge and can transition left by the fighter. From the Reactor on the lower level, go to the right to transition back.
| Section | Location | Destination |
| --- | --- | --- |
| Bridge | Left | Reactor |
| Reactor | Right | Bridge |
Environmental hazards
On the Bridge, there are quite a few objects to interact with. The first is the Launch panel for the fighter on the far left. To the right is a computer which you can use to kick. The robot flying above can be thrown and the Globe near the end on the right side can be used as well. Finally, the computer on the far right side can be used to leap or to throw your enemy against.
Down in the Reactor room there is a pipe on the left side to be used. More robots will fly above and a computer in the back can be used to kick your enemy. Finally, at the far left will be a Laser that can be used as well.
Location
Item
Gadget
Power
Bridge
Fighter Panel
Leap and Launch**
Launch**
Bridge
Floating Robot
Throw**
Throw**
Bridge
Computer
Kick
Kick
Bridge
Globe
Leap
Throw*
Bridge
Control Panel
Leap
Toss
Reactor
Pipe
Leap
Smash*
Reactor
Flying Robot
Throw*
Throw*
Reactor
Computer
Kick
Kick
Reactor
Laser
Shoot
Throw*

*Item is destroyed when used.

**Item is destroyed but respawns.