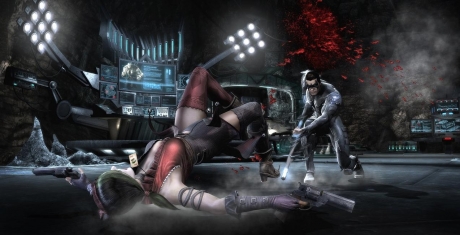 The Batcave is an underground cave arena, which, as the name implies, is Batman's secret base of operations. He uses this area to store his gadgets, computer systems and other equipment.
Transitions
There are two transitions on this level. If you start on the right side of the Crime Lab, you can knock your enemy into the lagoon below. From here, go to the left side and you can bounce your opponenet into the elevator. This will return your enemy to the Crime Lab above.
| Section | Location | Destination |
| --- | --- | --- |
| Crime Lab | Right | Lagoon |
| Lagoon | Left | Crime Lab |
Environmental Hazards
In the Lagoon, starting from the left, Gadget players can use the frame of the elevator to leap. After that, you'll find a large container hanging from the ceiling almost halfway through the section.
Location
Item
Gadget
Power
Crime Lab
Computer
Kick
Kick
Crime Lab
Batmobile
Rockets
Rockets
Lagoon
Elevator frame
Leap
N/A
Lagoon
Gas Tank
Bomb*
Throw*

*Item is destroyed when used.

**Item is destroyed but respawns.