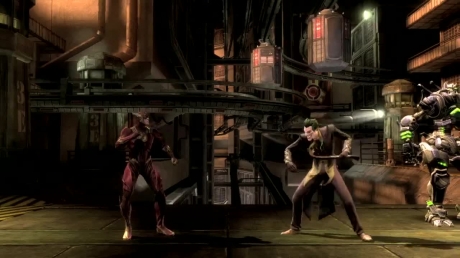 The penitentiary on the island is famous for being the prison that houses a number of super villains who fought against Superman, as such this arena will feature a number of cameos.
Transitions
Most battles start in the Cell Block and transition left. This will launch you into the Yard where you can transition right.
| Section | Location | Destination |
| --- | --- | --- |
| Cell Block | Left | Yard |
| Yard | Right | Cell Block |
Environmental hazards
There are quite a few hazards on this left. In the Cell Block area, there is a robot on the far left with a gun. You can grab his gun and shoot or throw the robot. Above him will be a gun that can be used similarly. On the bridge will be a Robot which can be used to leap or smash. Finally, on the far right will be a large cube that can be used.
In the Yard, on the far left are some weights. Further right will be some guards dealing with a troll. Next are some exploding canisters and finally a work station which can be used for a smash.
Location
Item
Gadget
Power
Cell Block
Robot
Shoot
Smash*
Cell Block
Hanging Gun
Shoot
Throw*
Cell Block
Robot
Leap
Throw*
Cell Block
Prison Cube
Leap
Smash*
Yard
Weights
Leap
Smash*
Yard
Troll
Kick
Kick
Yard
Gas Canisters
Throw*
Throw*
Yard
Workstation
Leap
Smash*

*Item is destroyed when used.

**Item is destroyed but respawns.