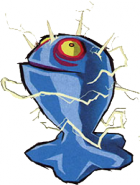 Blue ChuChus are a rare type of ChuChu, as there are only 23 of them that can be found in the game, although the same one can be killed again if you happen to visit it. They are electrified, so hitting it normally will stun Link and do damage. You need to stun it with either the Boomerang, Bombs or Skull Hammer, which will give you a few seconds for you to hit it with your sword.
Killing a Blue ChuChu the first time will always make it drop a Blue Chu Jelly, which it only drops once. Killing the same one again will net you 10 Rupees. These Blue Chu Jellies are part of a sidequest that will grant you the opportunity to buy Blue Potions from Doc Bandam on Windfall Island once you have collected 15 of them.
Check the Blue Chuchus section under Sidequests for a list of every location for this enemy.