Sub-Weapons
Raiden can make use of a variety of sub-weapons or items. These are included, but not limited to, Rocket Launchers, various grenade types including stun grenades and disguise items such as the cardboard box. These items are designed to be an aid to Raiden in certain situations. Clever use of these items is crucial to your success however.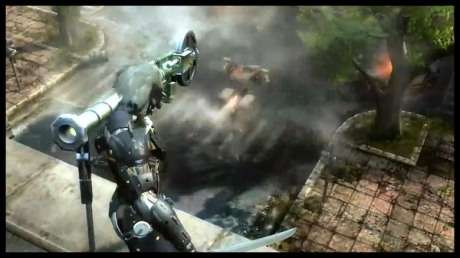 Ranks & Upgrades
As you complete each chapter of the game, you'll be rewarded with BP which can be used to improve Raiden's Arsenal. It can be used to purchase new weapons, attacks, or hardware for Raiden's body that increase his vitals. In the same fashion, it can purchase certain option outfits for Raiden as well as some special items like Wigs which grant him infinite ammo, energy, etc,.
BP is gained through completing combat sections, killing enemies (or not killing any enemies in an entire section) and fulfilling various other optional objectives. Certain items such as Holochips grant additional BP and when you're fully loaded with an item and can't take any more, picking up another of that item will instantly convert it to BP.
Cutomization
Raiden will have a wide range of customization options available to him through an in game shop. These can be anything from a custom look to Raiden's armor to new blades, moves and even wigs with incredible powers. Some parts will require Raiden to acquire Left Hands before being able to buy them with BP in the shop.
Ninja Dash Mode
Raiden can normally run at a pretty decent pace but he can also activate a Ninja Run mode that allows him to sprint indefinitely. Ninja Run allows him to deflect bullets and traverse difficult terrain just by staying in Ninja Run mode and going in the proper direction. In some cases, this is too fast a traversal mode so discretion is advised in enclosed spaces.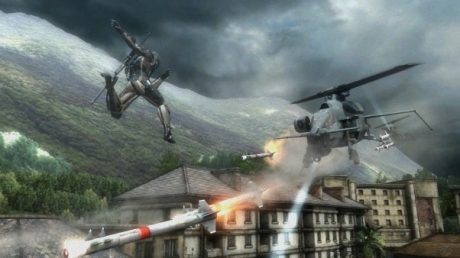 During certain parts of the game, Raiden will be able to use Ninja Run to cross a large enemy's body or even run through the air by using missiles or enemy bodies as stepping stones.
Combat
Parry & Counter
While Raiden can use his Ninja Dash move to escape harm, it is generally more effective for him to Parry an incoming blow and possibly counter it. To do so, push the left analog stick towards the incoming attack and press the Light Attack button. You can do this repeatedly after an attack animation has begun to ensure that your defenses are up and in cases where an attack animation takes a long time, your guard may lower before the attack comes if you're not careful.
Attacks that can be countered will have a red flash appear on the enemy just before the attack. Parrying the blow just before it connects will allow Raiden to perform a counter attack which frequently knocks enemies off balance.
In combat, it is not necessary to push the analog stick in the direction of someone you are currently attacking as Raiden will usually keep them in front of him if they move. This will allow you to more accurately tap the analog stick and attack button to create a parry as it is required.
NOTE: It is not required that a red flash appears to PARRY an attack, only to counter the attack. Most attacks can be parried. The sole exception or attacks in which the weapon or enemy glows a yellowish-gold color before executing the attack.
Blade Mode
Blade Mode is a precision melee combat system. When activated, Raiden's custom cyborg body creates a rush of adrenaline and other hormones that allow him to move at hyper speeds while slowing his perception of time for more precise attacks.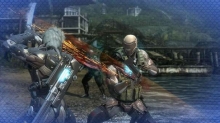 This type of precision attack can be activated any time but the rapid attacks and slowed time effect can only be achieved when Raiden has a reserve of Electrolytes (as indicated by the lower bar in the corner of the screen). Even with just a small amount of Electrolytes, Blade Mode can be activated but unless the main bar has been filled, it still doesn't function at full capacity.
When the main bar has been filled, Raiden's AR enhancements will automatically pick out weak points in his enemy's armor or defenses and highlight them. Striking these targets will give you either a tactical advantage (against bosses) or outright kill the enemy (regular enemies). In some cases, enemies may be armored and the armor will have to be removed through regular combat to reveal these soft spots.
Aside from the tactical advantage granted by Blade Mode, it is also important for collecting ID chips from the Left Hands of certain enemies and for replenishing Raiden's vitals. Cutting through the centers of most enemies will give you access to their repair nanomachines. These machines will fully repair Raiden's body and replenish his electrolytes.
Zan-datsu
Zan-datsu (or just Zandatsu) is the term for when Blade Mode is used and Raiden snatches the repair nanos from enemies. It is a crucial technique in the game and doing it frequently gives you more points at the end of a level while it provides the more immediate effect of completely restoring Raiden's vitals. See Blade Mode for more information behind this process.