Work first began on the concept of Pikmin 3 in early 2006, with actual production commencing in 2007 for the Wii, DS and 3DS.
At E3 2008 Nintendo confirmed the existence of Pikmin 3, at a developer roundtable event, however no specific details were revealed. The announcement, in October 2008, that the first two Pikmin games were going to receive a re-release with updated Wii controls fuelled speculation that development for Pikmin 3 was making little headway.
It was then not until E3 2011 that news emerged about Pikmin 3. Nintendo confirmed that development had been moved to their latest console - the Wii U, because Miyamoto felt that the Wii U's improved CPU and HD graphics would be a better fit for the game.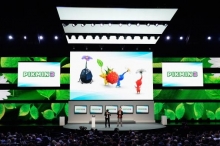 The game was finally revealed on June 5th 2012 during Nintendo's E3 conference presentation, complete with a gameplay demonstration of new features, including a new Pikmin type and use of the Wii U's GamePad controls.
Pikmin 3 was once again shown at E3 2013 as part of Nintendo's Nintendo Direct presentation and is due to launch in July in Europe and PAL regions and in August in America.