The Basics
Pikmin 3 plays similarly to the previous Pikmin titles, where the player directs a massive horde (or hordes; Pikmin 3 allows you to control up to three groups) of varied plant-like creatures called Pikmin to complete various tasks, such as building bridges or defeating enemies.
Pikmin is, in essence, a real-time strategy game which priorities objective and puzzle completion alongside combat.
Pikmin 3 also introduces cooperative play (local only).
Combat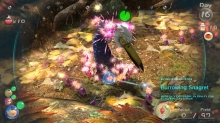 The combat system has been revamped for Pikmin 3. Before, players would simply throw Pikmin at their targets. Now, this will no longer be as effective. Instead players must first analyse the enemy in order to determine its weaknesses (for example, some foes will have sensitive areas which must be targeted).
Controls

Pikmin 3 has several different control methods. The first uses the Wii U Gamepad. The second makes use of the Wii remote (with Wii MotionPlus) & Nunchuck combination. And the third allows you to use the Wii U's Pro Controller. The Wii U GamePad will give players an overhead map on its touchscreen if the game is played on a traditional television set-up. However, it can also be played entirely from the Gamepad.
Pikmin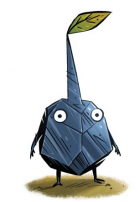 Pikmin 3 adds new types of Pikmin, introducing new abilities to the game and therefore expanding the number of potential objectives. For example, two new additions include Rock Pikmin (which are used to smash through tougher barriers), and Magenta Pikmin (flying Pikmin). The Pikmin from previous games are also included.
There are a number of different types of Pikmin. The colour and design of the Pikmin signifies its type, and each type has different special abilities or immunities to hazards, meaning you must use the right Pikmin (or combination of Pikmins) in order to succeed in a given scenario.
You can find out more about all of the different varieties ofPikmin available in the game in our Pikmin section.
Enemies
New enemies have also been introduced, further expanding the combat of the series.
For details on these, and other enemies found in the game, head on over to our dedicated Enemies section.