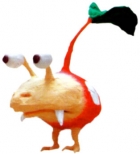 Bulbmin are the combination of a parasitic Pikmin and a juvenile Bulborb.
Bulbmin are immune to all hazards.
Although they can carry objects and flowers just like a normal Pikmin, they are extremely weak and are unable to leave the caves in which they are found. When the Bulbmin dies, it takes the parasitic Pikmin with it.