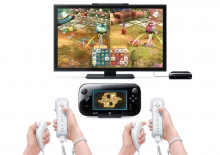 Bingo Battle returns after its appearance in Pikmin 2. Bingo Battle is a 2-4 player side activity where one players takes on the role of Alph and the other Captain Olimar.
At the bottom of each player's side of the screen is a 16 slot bingo card filled with random objects. In order to win the game you have to collect all four objects in a row before your opponent.
There are a number of different maps in Bingo Battle. Each map is not only based in a different location but also features different enemy types and objects.