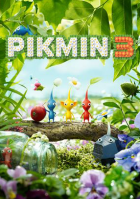 Pikmin 3 is the upcoming third entry in the Pikmin franchise and the direct sequel to the 2004 GameCube game, Pikmin 2. Originally planned for Wii, development has now shifted to Wii U and the game is due to be released in 2013.
Pikmin 3 is a real-time strategy game where players command a horde of varied plant-like creatures to complete various tasks and overcome obstacles and enemies.
Pikmin 3 Brainwaves
2 days ago, 0 replies

Nintendo has released a trailer for the newest set of Pikmin 3 DLC, which became available this week....

30th July, 0 replies

The summer season is in full swing. The release schedule has quieted down ever since The Last of Us wowed...

17th May, 0 replies

Nintendo aired a brief Nintendo Direct episode this morning, making a few new announcements while reminding...
Share Pikmin 3 with others