There are three different activities available to play in Challenge Mode:
Gather the Fruit
Battle Enemies
Defeat Bosses
Gather the Fruit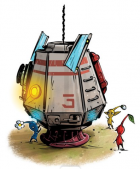 The primary goal in Gather the Fruit is to use the provided Pikmin to collect as much fruit and as many enemy carcasses as possible on the map within a certain amount of time. You must then haul the fruit back to the Pod, where it is converted into 'Pokos'. The player's overall score is based on the total number of Pokos earned.
When enemies are defeated, additional Pokos are also added to the score and more fruit will drop onto the stage. Finally, when a level is complete the player receives a ranking - bronze, silver, gold, or platinum - which is based on the number of Pokos obtained.
Battle Enemies
In 'Battle Enemies' players are tasked with defeating a set group of enemies within a certain amount of time.
Defeat Bosses
The third and final game type available to play in Challenge Mode is Defeat Bosses. Here you're tasked with defeating a certain boss (or bosses), again within a time limit. The more Pikmin you have remaining at the end, the better your score.