Pikmin 3 revolves around four entirely new characters who come to the Planet of the Pikmin to explore the depths of the planet after having become lost.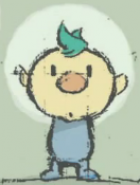 These three characters - Alph (a young boy), Brittany (a scientist), and their captain, Charlie - come from a planet called Koppai, which suffers from a severe lack of food due to population explosion. Having crash-landed on the Pikmin planet the three discover that this newly discovered world is full of fruit.
However, there's a big problem - the fruit is much too big for the group to retrieve all by themselves, and so they enlist the help of the Pikmin to help them harvest the fruit and collect seeds before returning to their homeworld.