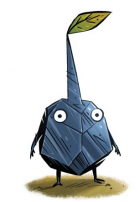 Rock Pikmin are a new species of Pikmin that appear in Pikmin 3.
Rock Pikmin have a slow attack but have a tough outer shell that makes them very hardy and allows them to break through crystal barriers. Rock Pikmin cannot be crushed by enemies or projectiles.
They do have one clear drawback, which is that they cannot latch onto their targets; instead, they bounce off and roll back and repeatedly attack enemies by charging headlong into them.