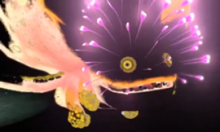 The Vehemoth Phosbat is a boss in Pikmin 3. It is a large moth-like creature with orange wings and a large gaping mouth which is located in the dark caves.
Initially invisble, it lights up its entire body with a pink hue when disturbed by the player. Its primary attack is to strongly inhale, sucking Pikmin into its gaping mouth whereupon it eats them.
Only Purple Pikmin, due to their weight, are invulnerable to the Vehemoth Phosbat's attack. It is defeated by throwing enough Pikmin onto its back that it becomes grounded.