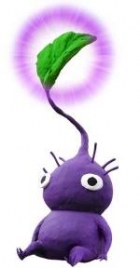 Purple Pikmin are larger than normal Pikmin and have several wiry hairs growing out of their heads.
Purple Pikmin can cause damage simply by being tossed at enemies. They can also pick up objects with the strength of ten Pikmin, but move more slowly.
Unlike the original Red, Yellow, and Blue Pikmin, Purple Pikmin have pink flowers.