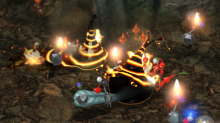 The Pyroplasmic Slooch is a large, slug-like enemy featured in Pikmin 3.
It cloaks itself in flames as a defence, which will set any non-resistant Pikmin on fire if they make contact with it. It also leaves a trail of fire behind it as it moves.
The Pyroplasmic Slooch can only be hurt by Red Pikmin, because they are the only Pikmins that are immune to fire. While a Rock Pikmin's initial thump can damage it, they will quickly catch on fire.