Starcraft II: Wings of Liberty has 2 important parts:
Campaign: Play the first of Starcraft II and start a real revolution with Jim Raynor.

Multiplayer: Fight against the computer or other players and proove your skills in combat.
Races
Whether you're playing the Campaign or Multiplayer, there are three available races/factions you can take control of:
Terrans
The mighty Terrans hold a superior firepower and heavy equipment.

Zerg
The deadly zerg are in continuous evolution, their sharp and poisonous teeth rip through the flesh of their enemies.

Protoss
The psionic protoss manipulate energy around them for a great offense or defense.

Your Mission
Campaign
Read more about the Wings of Liberty campaign here.
Multiplayer
As you start with one base and 6 workers, your mission in multiplayer is simple: gather minerals, build a base, create an army, smash the enemy. The only problem is how you achieve this because the enemy will also attack you. Take advantage of the environment and create new bases in key points or use heights to overwhelm your enemies and make them unable to see you coming!
How to play StarCraft II
In order to proceed with building your base, you'll need to gather minerals and gas, build an army to defend your base and eventually crush the enemy.
Gathering Resources
Your main base is your Command Center (Terran) / Nexus (Protoss) / Hatchery (Zerg). Every main base can train workers, which gather Minerals or Vespene Gas. Minerals are the blue crystals you use to train or build pretty much everything in Starcraft, while Vespene Gas is used for more advanced units, upgrades and structures.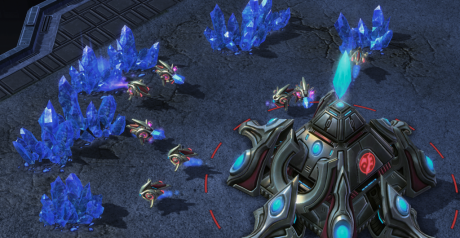 To gather minerals select a worker and simply right click on the blue or yellow Mineral Fields around your base. For gas, you must first build a Refinery (Terran) / Extractor (Zerg) / Assimilator (Protoss) and then set your workers to gather from there.
Building your Army

Once you have resources, you can build structures which allow you to train and upgrade combat units. Each unit specializes in certain field and are the basis for a defense of your base from attack, as well as the path to victory.
Crushing your Enemy
Probably the most satisfying moment in a match is using your army to eliminate your foes. Use your army to overwhelm your enemy and achieve victory.