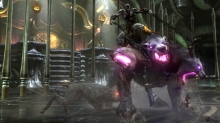 The Cerberus, in mythology, is the guardian of the underworld. It prevents people from escaping that have crossed the river Styx. It is usually depicted as having three heads and is the offspring of Echidna, a half-woman and half-serpent hybrid, and Typhon, a fire-breathing giant.
In God of War: Ascension, they serve the god, Hades, and are encountered a few times throughout the game. Unlike the previous games, Cerberi are purplish in color and have some new moves.
They "burrow" underground and then pop up near you, hitting the ground and sending out a short shockwave. Roll away from the Cerberus to dodge this easily.
They can swipe at you with one of their claws, sometimes preceded by a quick movement to the left or right. Roll away from the Cerberus to dodge this.
They can hit the ground and send out a straight projectile that goes along the ground. Roll in either direction to dodge this.
It can surround itself with a purple barrier, making it invulnerable to all attacks and it can hurt Kratos if he touches it. It dispels this barrier by sending out a short shockwave, which if hit, will stun Kratos.
If you see a white halo appear above the Cerberus' head, then grapple it with R1 to get on top and ride it, which usually entails smaller enemies spawning. You can attack with Square or Triangle while riding it. When a red halo appears, grapple it and mash the Circle button to do a brutal kill. Killing the Cerberus in this manner will earn you Red and Blue Orbs.