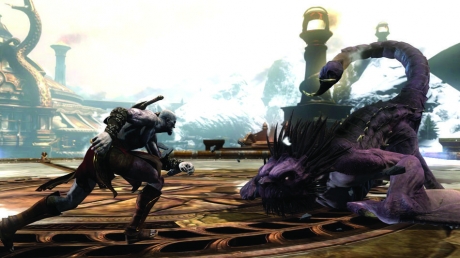 The Manticore is a flying creature that Kratos will have to fight twice during the game. There are two stages to the fight normally, although you start out in the second phase during the second encounter.
At first, it will remain in the air and breathe fire on you, eventually charging and leaving a fire trail. It's at this point that it should land on the ground. It has two attacks on the ground, which are to either flap its wings at you or strike you with its tail. If it hits you with the latter, you have to do a QTE to recover, otherwise you'll get hit again with its tail.
Once you see the white bar appear, grapple it and attack it while dodging to rip one of its wings off. It has three main attacks in this phase, which are either charging slightly and using its wing to attack, a fire breath attack, or do a sweep with its tail. It can also summon the flying creatures (Manticore Hatchlings) you've been encountering from the eggs; grapple these until you kill them. The best course of action against this phase is to draw an attack from the Manticore, hit it with a combo and then do it again. When you see the red halo, grapple and attack/dodge until you kill it.