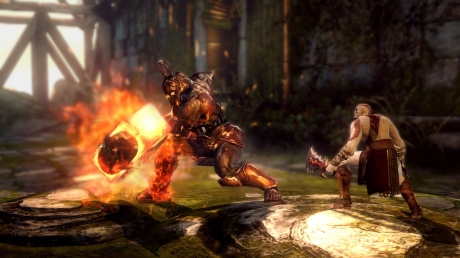 Combat in Ascension is similar to previous games in the God of War series. You attack enemies with combos, as well as dodging when they do their attacks. With the Blades of Chaos, Kratos can tether enemies, holding them in place and still attack another enemy with the other blade.
WORLD WEAPONS
New to the God of War series is the ability to pick up and use the weapons dropped by enemies as your own. When you pick one up, press the Circle button to use it, even during the middle of a combo with your primary weapon. These can be thrown, too, by holding L1 and then pressing Circle.
QUICK-TIME EVENTS
If you played previous entries in the series, then you know that periodically during fights, you will have to press a button to progress a battle or achieve a brutal kill. Some battles in Ascension will have promptless events where you will have to rely on your ability to evade instead of just pressing a button.
ORBS
There are three different kinds of orbs that players will find as they go through the game. They are Red Orbs, Green Orbs and Blue Orbs. Red Orbs are collected from fallen enemies, as well as Red Chests; these orbs are used to upgrade equipment and magic. Green Orbs are used to replenish your health when injured and are dropped by certain enemies, as well as gotten from Green Chests. Blue Orbs are the same as green ones, but they replenish magic.
COMBOS
As you do combos with various weapons, a counter will be visible on the screen. As this counter goes up and reaches certain thresholds, you will get additional red orbs. This goes all the way up to 1,000 hits, where you are awarded a bonus 100 red orbs. The combo is broken if you take too long in between hits, and sometimes when you get hit.