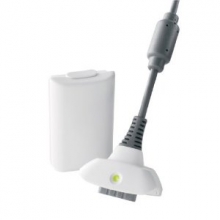 The Play and Charge Kit contains a rechargeable battery pack and a USB charging cable. Use of the charging cable does not affect the functionality of the controller, and may be used without interruption to gameplay.
When connected, the controller does not act as a wired controller, but continues to communicate with the console or receiver wirelessly; data is sent via USB to the host only to allow automatic syncing and to initiate charging and does not send controller input data. As a result, the cable need not be plugged into the console or computer the controller is being used with — any convenient powered USB port may be used.
The Play and Charge Kit will also automatically sync the controller to a Wireless Gaming Receiver when both are plugged in to a Windows computer.