Sales Figures
Deespite selling out at launch in North America and Europe, the Xbox 360 made a relatively modest start in its first year on sale. Microsoft were forced to lower their 2.75-3 million 90 day target to 2.5 million units, although their 6 month sales target remained unchanged at 4.5 to 5.5 million. In total, the Xbox 360 sold just over 1 milluion consoles in 2005 and an additional 6.8 million in 2006.
As of December 2012, over 75 million Xbox 360 consoles have been shipped worldwide.
Reliability Issues
Immediately after the launch, reports about the new machine's technical glitches started coming out. Some reported the Xbox 360 crashing with errors, some reported the hard drive does not respond in certain situations while others report error messages during various games or unusually fast overheating. Initially Microsoft claimed that these problems were to be expected on a large scale release for a console and the number of reports versus the number of consoles released was minimal.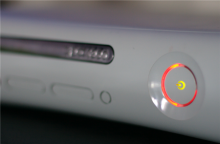 However, the Xbox 360's hardware issues soon became infamous on the internet. The so-called "Red Ring of Death" problem plagued the early Xbox 360 models for years, and Microsoft offered little support for fixing them. In 2009, after multiple minor hardware revisions intended to fix the problem, Microsoft finally extended the warranty of the Xbox 360 to 1 year, allowing most people to return Red Ringed consoles if the problem arose. More recent Xbox 360 models have not had the Red Ring of Death issue in any significant numbers.