Design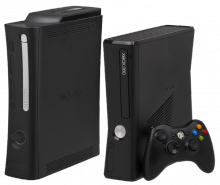 The Xbox 360 was designed by Astro Studios in cooperation with Hers Experimental Design Laboratory.
The physical dimensions of the original Xbox 360 are 310 mm × 80 mm × 268 mm when placed horizontally. It is slightly slimmer in every dimension and is slightly concave.It came as standard in either black or white, with other colors available as special editions.
In June 2010 a redesign of the console, known as the Xbox 360 S was announced. This version of the console retains the same basic shape but is noticeably smaller and more angular than the original version. It comes as standard in either matte or glossy black.
The original Xbox 360 weighs approximately 3.5 kg (7.7 lb). The new version weights at 2.9 kg (6.6 lbs).
CPU
The Xbox 360 features a 3.2GHz ATI Xenon triple-core processor, custom built for the device. It is capable of simultaneous multithreading, but restricted to in-order execution.
GPU
The GPU is an ATI-built Xenos. It is similar in design and performance to ATI's X1800 PC GPUs. It has a clock speed of 500MHz.
Memory
On the memory side, the Xbox 360 has just 512MB of GDDR3 eDRAM.
Motherboard
Several major motherboard revisions have been introduced over the console's lifespan in an attempt to build systems more cheaply and allow them to run cooler while consuming less power.
The table below shows a list of the major revisions: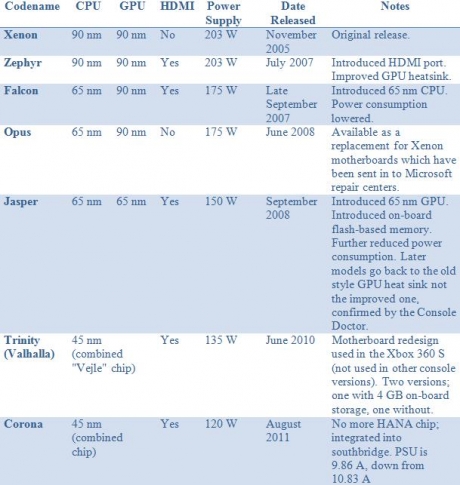 Storage
At launch it could be purchased with a 20GB hard drive or no hard drive at all, with Microsoft selling heavily marked-up computer hard drives built into a custom shell as expansions and replacements. The current models of Xbox 360 offer 250GB hard drives and 4GB hard drives.
Audio & Video
The Xbox 360 initially could not output HD video. Until the Elite model in 2007, there was no built-in HDMI port nor support for component video cables. The Xbox 360 supports up to Dolby 7.1 surround sound, and all Xbox 360 games support at least Dolby 5.1. The Xbox 360 is capable of supporting resolutions up to 1080p, but most games run natively at 720p or lower.
Disc Drive
Only DVDs can be read by the Xbox 360 disc drive, and its games are hosted on dual-layer DVDs with a 7.8 GB capacity available for software. The Xbox 360 had an optional HDDVD expansion drive, but support for this was dropped when the format failed.
Networking
The Xbox 360 came with a built in ethernet port, but a wifi peripheral had to be purchased seperately up until the introduction of the Xbox 360 Slim in 2010.
Power Supply
The console uses an external power supply with a 10 A/100–120 V or 5 A/220-230 V (AC) input and DC output rated at 203/175/150/135/115 W (depending on revision).