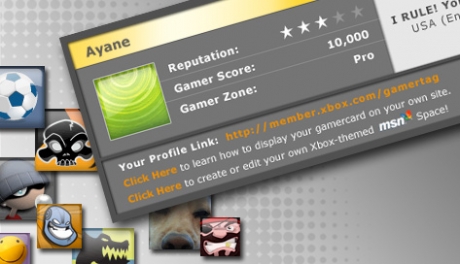 The Gamercard is an information panel used to summarize a use'sr profile on Microsoft's Xbox Live. Gamercards include:
Gamertag
Gamer picture (avatar)
Reputation
Gamerscore
Gamer Zone
Recent games played
A player's Gamercard can be viewed via the Xbox 360 Dashboard, or online through Xbox.com and other community-based websites. Third party sites often allow users to post a rendered version of their Gamercard as a small Flash applet or JPEG image on any website or Internet forum.
There are four Gamer Zones; Recreation is for casual gamers, Family is for family-friendly gamers, Pro is for competitive gamers who enjoy a challenge, and Underground is for no-holds-barred gaming where anything goes (as long as it does not violate the Xbox Live Terms of Use). However, in practice these gamer zones are displayed only on the Gamercard of the player, and do not tend to affect the gameplay experience or the matching of players in online games.