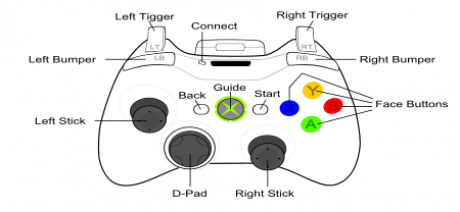 The Xbox 360 Controller can be purchased in both wired and wireless variants. It features four main face buttons, two analog sticks, two shoulder "bumper" buttons, and two analog triggers. It also has a front-facing D-Pad, which has been the subject of much criticism, despite the otherwise very positive reception to the controller.

There are a number of varients to the Xbox 360 controller. It was originally only available in a creamy white color, but has since been released in black. Many alternate colors have been available temporarily in special edition controllers.

In 2010, partly as a response to the complaints about the D-Pad on the standard controller, Microsoft released a special transforming D-Pad controller. This varient lets you change the D-Pad into a more standard, clickable variant. These controllers became the standard controller for special edition controllers, such as limited edition Halo and Gears of War controllers. However, the original gamepad remains the packed-in controller for the system, and Microsoft continues to charge $5 extra for the transformable D-Pad variant controllers, and $10 extra for the special editions.